warning: a long, yarn-related post; no fabric here, sorry!
~~~~~~~~~~~~~~~~~~~~~~~~
I had intended to get this post up ten days ago but I needed photos… then DD and the GrandBoys made a surprise visit. Needless to say, I didn't give much thought to posting anything on my blog!
Despite the fact that I had been in a groove with my sewing over the previous few weeks, I had also completed a fair bit of knitting. My most recent post regarding knitting (as opposed to yarn) was in mid-June so I'm going to talk about all my projects since then; whether completed or in progress.
At the end of June I tutored two workshops: one on stranded colour knitting, the other on slipped stitch knitting so there were a few samples that needed to be knitted.
I've already showed you the two slipped stitch scarves in this post, so here are some other slipped-stitch patterns: a slipped stitch beanie and a sample slipped-stitch square that could be used in an afghan/blanket:
For the stranded colour workshop I knitted two hats; the second shows a traditional Norwegian motif I found on the internet.I couldn't get it on my head so I had to put my hands inside it for the photo – it's not really that shape!.
I finished Socks for Someone #4 and cast on Socks For Someone #5; I've finished the first sock, except for the grafting of the toe and the sewing-in of ends, and am on the foot (cuff down) of the second. The socks are my own basic sock pattern for women; 64 stitches knitted on 2.25mm needles.
In mid-July, I tutored a workshop on shadow (aka "illusion") knitting. I didn't have my scarf finished in time for the workshop, although I did take it along as a work in progress. That scarf is now finished and is seen here pinned out for blocking. The pattern is Counterpoint Scarf, by Jennifer Crawford; free to Ravelry members. The yarn is discontinued: Moda Vera Cynthia (brown) and Moda Vera Jaclyn (cream) – both DK weight, 50% acrylic/tencel. I chose brown and cream because I didn't have any black 8ply (DK) yarn that was the same brand as any white yarn and it seemed important to have two strands that knitted up to the same gauge. All experienced knitters know that all DK weight yarns are not created equal!
In this post, I talked about how much yarn I have. I managed to find storage for most of it, except for the "Grab Bags". There were too many of them to fit in the space I had allocated, so knitting through those has become my priority knitting. I can't believe my first project for the "Grab Bag Challenge" was completed last December!
I remember that, for the next project, I grabbed a bag of yarn and intended to knit a prayer shawl for the person who donated quite most of my 'grab bag' contents. However, the prayer shawl was a lace pattern and I had to set it aside even before I cast on; i usually knit in front of the television, and that just wasn't TV knitting! When we moved that bag of yarn disappeared into the pile of grab bags during packing; one day it'll turn up and I'll be able to knit that shawl.
In the meantime, I have knitted two hats from a pattern called Bubble Gum which is available for free on Ravelry. I think I would have called the pattern "Bee Hive" or "Honey Pot" because it reminds me of a green ceramic honey pot we had when I was a child (not that it ever had honey in it)! My two hats don't look as nice as the ones on the Ravelry page, perhaps they'll look better after blocking or with a head in them! I've only shown one, they are basically identical – knitted from the same no-longer-available yarn from K-Mart called Triplequick, a 12 ply (bulky) yarn which I knitted on 6mm needles. It was, indeed, a quick pattern to knit and I completed the two hats, including sewing in ends, over three evenings.
I started knitting a scarf/shawlette from a simple (free from Ravelry) pattern called Forget Me Not using a discontinued yarn called Lambswool 80 (80% wool, 20% nylon) by Patons Australia. In the comments section of my Ravelry projects page I wrote: "life is too short to knit with yarn which feels like string! Even acrylic feels softer in the hand than this yarn so it has been frogged and the yarn has been given to the op shop (thrift store)." The project was aptly named Yarn Shouldn't Feel Like String but, unfortunately, I forgot to take photos of the yarn before I gave it away!
Then came another hat when I grabbed a bag containing 3 skeins of Sirda Octo, an 8ply (DK) blend of 80% wool and 20% nylon. I have never successfully knitted a beret; I always seem to have too many rounds and get a lump in the middle where it should lie flat. I had hoped this one would be different; it's a very pretty lace pattern and the decreases are included in the pattern. But I should have looked at the pictures of the Elfunny Beret on Ravelry more carefully: it had a deliberate 'lump' in the centre, accented by doing extra rows! I had to remove the extra rows and add a couple of extra rounds of decreases to make it work. Here it is blocking with the dinner plate still inside! Unfortunately, it's supposed to be adult size but there's no way I can get it on my medium-size head! Ah well, someone will live it, I'm sure.

WM grabbed the next bag (my current knitting project, along with Socks for Someone #5): it contained 329g of yarn called Lincoln Buffalo Wool. The only additional information on the label was that it was mothproofed* pure wool, 6ply (a heavy sportweight or light DK), colour 488, Taupe. No needle size was recommended. I couldn't find any information online about this yarn specifically or the yarn company in general. It may have been mothproofed forty years ago but I have had to deal with quite a lot of insect damage as I knitted which has left me with lots of ends to sew in! I know it is more than forty years old: the Australian wool industry adopted the metric scheme in 1971 and these balls were labelled "1 oz"!
I decided this time to knit something where gauge was not so crucial and finally settled on a pattern of a triangular scarf or shawlette called Springtime Bandit. The original pattern was knitted in 10ply (Aran) but I have seen it knitted in 4ply (sock) so it's obviously very versatile. I didn't know how far 329g of yarn would go; 8ply wool yarn usually contains about 200m to every 100g so this could be as much as 650m. If it's a lighter weight than 8ply, it may go even further! The designer, Kate Gagnon Osborn, recommends four pattern repeats; I have done twelve and still have four skeins for the edging!
It has knitted up like 8ply (DK) on 4.5mm needles. Since I am usually a looser-than-average knitter, it will be interesting to see how it goes after blocking! This is what it looks like so far:
I don't' think I'd describe it as 'taupe'; its more milk chocolate!
The Grab Bag Challenge is fun; I have no idea what the bag will contain until it is actually in my hands (I'm not allowed to return it to the box, I have to knit it and use up as much of the yarn as possible) the fun part is choosing a pattern that works for the amount of yarn I have (long live Ravelry!) and seeing how it knits up. Most of the bags contain only small amounts so there'll probably be a lot of hats and/or scarves in my future but that just adds to the fun: small projects are quickly finished then a new bag is selected!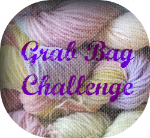 It's winter: cold and raining here (thank God, we were in a drought and needed rain desperately) so it's great weather to curl up under a hand-knitted blanket/afghan and knit away!
What are you working on at the moment?