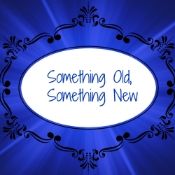 Finally, more than halfway through the year, I am able to report that I had a pretty good month in achieving some of my plans.
My list for July was long compared to other months – perhaps that's what spurred me on!
Actually, I think it was having all my fabric and yarn sorted and in the right places that made it easier for me to be productive.
So, let's look at my focus list for July.
The first of my "Something Old" projects was to repair the toe on one sock of the first pair of hand-knitted socks I made for WM. Back then, I didn't know how to graft properly and dropped a stitch. That toe has been unpicked, ripped back to the dropped stitch, re-knitted, re-grafted and blocked and looks good. Mind you, he hasn't worn it yet, so I don't know how much the re-knit stitches will stretch! From my point of view, goal accomplished!

My second "Something Old" project was a pair of socks I knitted, frogged and re-knitted. They have been hibernating for (literally) years because I thought the legs were too short and I couldn't face ripping back past the heel again. I think I've gotten more ruthless since all that de-cluttering before we moved; I made a decision to just get them finished and stop agonising! Goal accomplished!

Note to self: don't use a variegated yarn for a subtly patterned item!

The smallest of my "Something Old" projects was to knit one man-size fingerless mitt to match the one I finished two years ago (I may not have 'second sock syndrome' but mittens are a different matter, it seems!) I did not even cast on for this one; I got too excited about other knitting projects (subjects of another post).

My biggest "Something Old" project was my Country Houses quilt. This has been in hibernation since I decided it was too big for a single (twin) bed but too small for a queen/double (full). I didn't have enough of my original dark green fabric to add more to the quilt so it went into hibernation. For a long time I couldn't decide what to do with it, then I couldn't find any fabric that I liked. Finally I settled for a very subtle beige on white stripe. I thought I would add some of the checked fabric I had used in the houses as a border for the central part of the quilt (thus making it wide enough to fit a full-size mattress) then add the striped fabric to hang over the bed. I would stitch houses onto the fabric to tie in with the central panel. It all seemed good in theory but it didn't work! Even from a distance of only a couple of metres, the fabric read as white and the beige colour I had chosen for the stitching disappeared into the fabric.

I really, really didn't like it! I tried to convince myself that six hours of work had been done and it would be okay but I knew it wouldn't and there was nothing for it but to rip out all that stitching – slowly and carefully as the fabric seemed a lot more delicate than it should! However, I had to use that fabric, I had bought four metres of it (What was I thinking?) and fabric in Australia is around $25 a metre (40") so I knew I couldn't waste it. It It is still waiting for the day I can face ripping out all that work! In the meantime I realised that I would have to cut the 'white' fabric into smaller blocks and that I would have to appliqué houses to them. I considered hand embroidery but the appliqué would have more substance, hide quite a bit of that white and probably be faster! All that to say that the Country Houses quilt is still a work in progress and will, hopefully, be completed in August.

My "Something New" project was a blue Bargello table runner that I only work on in class. That meant only two lessons during July so the fabric was selected, pressed, cut, seamed, pressed and made into two tubes ready for the next cutting step. I only planned to get started on this technique, so goal accomplished!

I listed my Keyboard Scarf, which is knitted in a shadow (illusion) technique, as a "Something New" project even though the technique itself was not entirely new and I had started (and frogged and restarted) the scarf in June. Following a chart for the technique was new so it was, sort of, a "Something New" technique. The scarf was not finished in time for the workshop I tutored but it was long enough to take as a sample. It was finished last week. Goal accomplished!

What do you mean you can only see stripes? LOL
That's why it's called an illusion! Does this help?


The biggest goal on my focus list was to sort and store my yarn stash. I wrote a post about that here so I won't go into more detail except to say:

goal accomplished!



Then came a WIP – Socks for Someone #4: they were finished on the first of the month.
Goal accomplished!
Socks for Someone #5 were cast on immediately. I like to always have a pair of socks on the needles, they make great travelling knitting and I have lots of sock yarn! The first sock was finished and the second cast on before the end of the month. This was another project I only planned to start, not finish so goal accomplished!

As you can see, a pretty good month. There were other sewing projects started which I mentioned
in this post
and other knitting projects completed (but you'll have to wait until next week's post to see those).
Yes-sirree, I'm a pretty happy stitcher this month!
Now can I carry the momentum forward?
What about my plans for August?
Something Old: I'm embarrassed to type this: I'm going to finish the curtains I started in 2011! I think the fabric print is too young for the boys now but DD wants them so wish me luck!
Something Old: man's fingerless mitt (see item #3 above)
Something New: I'm going to learn how to make a quillo, then I'm going to make a second one – I have two grandsons so one is not enough. Because this is my "Something New" project, they don't have to be completed, just one has to be started and some progress made.
WiP: finish the Bargello table runner.
WiP: finish the Country Houses quilt **sigh**
Grab Bag Challenge: Taupe Buffalo Shawelette – I knitted six repeats of the pattern in two days; it's a very easily memorised pattern. I am trying to decide if I have enough yarn to knit a seventh pattern repeat. I plan to finish this one.
WiP: finish piecing my curved blocks (20 to go)
There's a lot of sewing projects in there, seven out of nine items; as opposed to last month when it was seven knitted projects, one sorting project and two sewing projects! It will be interesting to see how much I actually get done – I'm pretty sure this list is Way. Too. Ambitious.
What about you?
Did you achieve your goals for July?
What do you have planned for August?
Link here with the URL of your blog post so we can visit and see what you're up to. Thanks.