If you are visiting this challenge for the first time, welcome;
you can read more about the basic idea
on this page
and/or you can click on the link to read the
January edition
.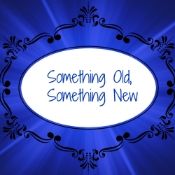 Here we are in February. I don't know about you but January just seemed to fly by. Summer holidays are over (although summer isn't) – the kids are back in school and most of my activities start up again this week.

I didn't achieve as much as I hoped during January; the reading bug bit and I spent more time reading than crafting.

One thing I'm already appreciating about the Something Old, Something New challenge is that, because there are only two "set" projects a month, it's completely doable yet keeps me moving forward.

So, firstly a review of January's goals:

For the "old" part of the challenge, I aimed to complete a flimsy from 48 crumb blocks I had made for the
Rainbow Scrap Challenge
in 2011 and 2012. In January, I wrote a post about
my process
; here's the flimsy:
I love it! It turned out much better than it looked like it was going to. Working with other people's scraps (as I often do) can be a big challenge but this one came together really well.

For the "new" part of Something Old, Something New, I decided to learn how to do shadow (aka illusion) knitting. This is a relatively easy technique which can have spectacular results.

My first attempt was less than spectacular and getting a good photo was more of a challenge than the actual knitting.

Here is what looks like a striped piece of knitting:
and here is the checkerboard shadow/illusion
Pretty amazing, isn't it?

However, it became very obvious to me when I was about halfway through this piece that smaller needles than usual were required to obtain a good result; otherwise the areas of stocking stitch (stockinette) are too obvious and break up the illusion in the pattern.

I used 8ply (DK) weight yarn on 4mm needles. Since I have a very loose tension, I need to use smaller needles than that to get gauge at any time – why that didn't occur to me before starting this sample I don't know! I'm not teaching this workshop until July, so I have learned something to be sure to tell my students and I still have several months to improve my own technique!

Now, onto February's challenge:

By the 'rules' I set for myself (you can create guidelines that work for you), my "old" project has to be something I have not worked on in more than three months.
I began my Country Houses quilt in 2011 and worked on it through the year. I originally intended it for a single (twin) bed but it's much too big for that so I've been trying to make it fit my queen size bed (which is where it was photographed and you can see it's way too long and too narrow -- two rows have since been removed). It occurred to me recently that I could just turn it into a wall hanging and hang it opposite the front door. Now I'm not sure what I want to do with it but I know I want to get it out of my UFO pile!

Therefore my "old" project will be to take Country Houses at least to binding stage!
My "new" challenge will begin in the class I attend at my LQS: we decided last year that we would be working on the technique of foundation (paper) piecing. Because I have not done any, I have nothing to show you of my own but I'd like to try this block designed by my friend, Cindy, at
Tops to Treasures
. The link is to Cindy's tutorial for making this block.
So how about you?
Did you work on an old project in January and/or learn a new technique?
Do you have an old project you will be working on in February?
Will you be learning a new technique in your chosen craft or starting a new project?

Link here with the URL of your blog post so we can all visit and see how you went in January and what you have planned for February.