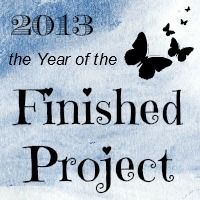 Here I am; a little bit late given that it's already evening here in eastern Australia but it's still the first Thursday in May – so really, I'm right on time!
How did you go in April? What are your plans for May?
The work at the "renovator's delight" (DD's former home) is slowly being done, and soon I hope to have more time to get more done on my crafting projects.
WM and I are going away for our annual vacation on 25 May
, plus we are taking a weekend off to travel 538km (335 miles) to my mum's for Mother's Day (the second Sunday in May)
so this will be a short month for me in many ways! However, the travel may give me a little more hand-stitching time!
But first, let's have a look at how I went in April.
This was the month where DD and family moved away
and I lost my desire to craft, instead I lost myself in reading fiction for a few weeks! Then I got sick with an upper respiratory tract infection!
WM and I have also spent much of our free time at DD's former home working to turn it from a "renovator's delight" to rentable accommodation, however we took a day off to celebrate
my birthday
in style.
T
herefore
April, like February and March, is not looking too good. Perhaps I'd better only have one project a month in future! LOL
This is my April list:
Earth and Sky quilt – finish
It's nearly finished; it just needs the binding done. Of course that means pressing the fabric, cutting and joining the binding before I can attach it to the quilt!
Scrappy Log Cabin quilt – at this stage, an unfinished flimsy
This project remains untouched as yet, I really can't decide what to do about the border. I think I'll leave this for another post and maybe seek some advice!
Scrappy Strings II quilt – finished 11 April 2013; you can read the post about this quilt here
at least one quilt for Gift of Hope
This one didn't get very far: I joined four blocks (made by someone else) into a flimsy and that's as far as I got. But there is a reason – the Big Box Store had no white or cream flannelette (for wadding) when I went there so I was stalled until I could get some. That happened on Monday this week but I haven't had a chance to work on it since then.
Westall cardigan – WIP – finish ribbing, knit sleeves
I finally finished the ribbing on 5 April but just haven't been in the mood for the concentration needed to pick up stitches around each armhole to commence the sleeves! Instead I broke my own rules and started a new knitting project – but that's a whole other post!
hexagon project bag – WIP – my "slow stitching" project
I have done a little work on this project. WM and I worked both days of last weekend at DD's house and we were extremely tired; too tired in fact for me to lift my sewing machine in and out of the car so I took this project to class on Monday – and now I find it hard to put it down!
Sorry about the shadow over the photo - I had to take it at night under fluorescent light, using my iPad -- but at least you can see there has been some change since this post. And yes, it does curve up like that -- it will be a bag so it needs shaping! See those yellow star pieces: pentagons, not hexagons -- that's where the bag gets it's shape. What you're looking at now is the base of a drawstring bag turned inside out!
So, what do I plan for May? Well firstly, ease up and take some pressure off myself! The list is the same length (six items) but the goals are not so ambitious!
Blanket for Emily
I had hoped to get this finished in time to deliver it in person when we see her for the first time on 10 May but there's no way I could do it! I estimated that if I knitted for six hours every day until 9 May it would get done – but I don't have that kind of knitting time, nor do my hands like knitting with cotton for long periods of time! So Emily will have to patient! (That's a big ask for someone who's just nine days old! LOL)
Westall cardigan – WIP – sleeves?
This should be my #1 priority this month, it's been hanging around for too long. It's a cotton/acrylic blend so if I don't get it done soon I'll have to wait until spring to wear it. But Emily's blanket somehow seems more important!
Earth and Sky quilt – finish including label!
Scrappy Log Cabin quilt – finish the flimsy!
hexagon project bag – again, my "slow stitching" project for the month.
This project will go with me on my travels so hopefully the end of June will see it done!
Gift of Hope quilt #2: Now that I have the flannelette there can be no more excuses!
Projects 3, 4 and 6 are my goals to be included in
Nothing But UFOs in 2013
(although we all know that I will work on things that are not UFOs, right?) which is hosted by Carrie over at
A Passion for Appliqué
.
So, how about you?
Write a blog post detailing your progress (or not) in April and your plans for May. You can be working in any craft – please don't feel it has to be quilting, knitting or hand-piecing; they are just the crafts on my list at the moment (later there could be cross-stitching, embroidery or even crochet!) .
You can
make your own rules or follow mine
, it doesn't matter: what is important is getting those UFOs out of the pile/closet/basket and getting them finished!
You don't even have to have a blog to join in – post your photos to Facebook or Flickr or Picassa or Pinterest – wherever. Just come back here and link up so we can visit and see what you've been up to and what your plans are!
Good luck with deceasing the number of UFOs/WIPs at your place during May.
~~~~~~~~~~~~~~~~~~~~~~~~~~~~~~~~~~~~~