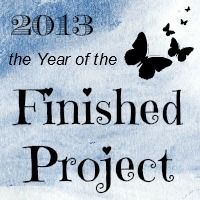 If you're looking for the May post for 2013: The Year of the Finished Project, it's over here.
As you may know from this post, my eldest niece (my sister's eldest daughter) had her first baby on 23 April. Being just two days before my own birthday, you could say she was an early birthday present.
This is the same baby I made the Very Hungry Caterpillar quilt for (because it is her mama's favourite childhood story).
But I've gone a little less bright and a little more "pretty" for her baby blanket.
I didn't start the blanket until the day after she was born, and then I ripped it out (too wide and wrong colour combination) and started again two days later. It's not that I didn't know she was coming, of course. It's just that I didn't know she would be a girl (although I had a feeling she might be!)
I was also being true to my own rules – no new knitting projects until others were finished – but a new baby is exceptional! They don't come along in my family every day!
I have not been in the mood for knitting between saying goodbye to DD and the Grandsons, being sick, and working over at the "renovator's delight" (henceforth known as "RD" -- there will be a post soon, I promise)!
But there's nothing like a new baby to bring out all those craft-y tendencies!
I looked through my stash and decided to use up my Fiddle De Dee cotton (by Cleckheaton, sadly discontinued) because it's a heavier weight (10ply/Aran/worsted) than the other cotton in my stash (we're coming in to winter) and, more importantly, it's machine washable and dryable! I don't know that my niece knows such a thing as hand-washing exists! It knits up very softly although, being cotton, is quite hard on the hands when knitting for extended periods. I only had small amounts of each of four colour-ways, three skeins (150g) of lemon, and six skeins (300g) each of mint, a lemon/blue/white variegated yarn and an lemon/mint/pink/white variegated yarn.
The right combination and the right pattern were going to be important so an entrelac blanket it must be (hi Cindy! LOL). My first choice was to use the two variegated yarns but I didn't like the combination so I settled on the mint and pink variation (of course! LOL)
Anyway, I hope to see Emily next weekend and wish her mama "happy mother's day" for the first time. But I doubt I'll have the blanket finished. This is where I was up to on Saturday afternoon; I've done part of the next tier since then!.
(Thanks Diane for the photo taken by iPhone during our workshop on Saturday)

If I had time to knit all day I might have got it done …
But there's no way that was going to happen!
It will be sweet when it is, don't you think?
Linking up with Barbara at
Cat Patches
for the New FO challenge (on the last possible day!).