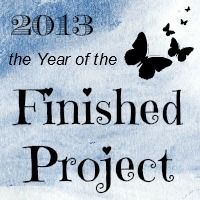 Welcome to the first post of our linky party which is is open to any form of stitching: knitting, crochet, quilting, sewing, dress-making, embroidery, applique, cross-stitch, etc.
You can set your own goals and rules for this "stitch-along"; I'm not going to check your blogs to make sure rules are followed. Simply, the aim is for all of us to reduce the number of UFOs hiding around our homes.
I ask only four things:
At the beginning of the month, tell us what project/s you intend to work on and give us a brief run-down of where the project is at and why it stalled. In the same post, share your progress from the previous month (obviously not in the first month you join the party).
Link your post back to this blog, using the html code in the grab box above. The code is also under the tab 2013YFP at the top of my blog.
Add the URL of your blog post to the linky party below. Please don't use the URL of your blog. People want to read about progress, not spend time searching for the relevant post.
Read and comment on some other blogs that link to this party! We all like to receive comments, and those from new commenters are a bonus!
In case you are wondering, I define
Unfinished Object
(UFO) as anything I haven't touched in the last six months. Any project that has been worked on during that time is a
Work in Progress
(WiP).
You may not agree with my definition and that's okay: write your own. It has to work for you, right?
So, my rules
for myself
are as follows:
Finish at least two projects a month. At least one of these must be a UFOs/WiPs that was started prior to 2013. (I have a list on a separate page of the twenty-one projects I have carried into 2013.)
When two projects are completed (in a calendar month), a new project may be started.
Stocking stitch socks do not count as new projects and may be cast on at any time. However, there may be only one pair of these on the needles at any one time.
Single-coloured garter stitch squares also do not count as new projects. There may be only one of these on the needles at any one time.
Class samples don't count as new projects.
Completed stocking-stitch socks, garter-stitch squares or class samples don't count as finished projects for the purpose of "The Year of the Finished Project"! Nor do small knitted items, such as cowls, hats and fingerless mittens.
~~~~~~~~~~~~~~~~~
So, what am I working on this month? Most are from my carried-over project list.
WiP: Westall Cardigan – I want to wear this as soon as possible so getting it finished in January is a priority. It stalled over Christmas because it requires solitude to concentrate on the lace pattern and unusual construction.
UFO: sideways baby jumper – there should be a fair bit of knitting time since I plan to watch both the Hopman Cup and the Australian Open Tennis Championship during January. I intend this to be finished by 31st January.
WiP: Deb's Diamond Blanket – needs space to spread out and time to concentrate; neither of which I had over Christmas. This will not be finished in January, it is a long term project.
WiP: Hearts and Squares quilt – the hearts were finished in December, the squares were made progressively from November 2011 to November 2012. I would like to get the layout planned, the blocks trimmed and the blocks sewn into rows by the end of January.
WiP: Dotty Bright quilt - needs to be square up, loaded on the quilting frame and quilted. Stalled because I like quilting with DD but we never seem to get the chance!
WIP: hexagon project bag – I need this bag so it's time to put in some effort towards finishing; although it probably won't happen in January!
UFO: piano cross stitch – if I do a little on this every month, I may get it finished sometime this decade!
new: placemats for the Grandsons – this will be my new project for January but first I have to get two other projects finished.
~~~~~~~~~~~~~~~~~~~~~~
Your turn: what will you be finishing this month?