The last week of September was very busy, including an unscheduled train trip north to bring DD and the Grandboys back here to attend a church conference that went from 25th to 29th September. And what a fabulous conference it was! I was on the music team and sang at every day session; which was eleven of the fifteen sessions so my voice was a little tired by the end of the 'weekend'. Can't wait for next year's conference!
Before the conference, I had quite a bit of crafting time in the first part of the month, both sewing and knitting, so was able to achieve more than I expected.But this post isn't about all my projects – just two: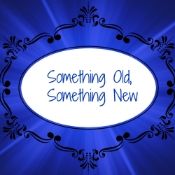 My Something Old project was also my Relaxing Robin challenge which is being held over at Dawn's blog, sewyouquilt2. Unfortunately, I missed September's link up because of my unexpected trip north then having a house full of over-excited people! I did make some progress but I want to devote a special post to my progress so I'll just show you the original block here.
The challenge will be to turn two 9" blocks into a ful quilt measuring approximately 54" x 64"!
My "Something New" project was very successful. I had planned to make a start on a braided rainbow quilt by learning how to make one pioneer braid. I soon discovered that it take much longer to press and cut all the strips for the braid than it does to actually sew the strips and that it is easier to sew two braids at the same time (so to speak) so that there is always something under the machine needle. So here are my first two braids made from twenty-three pairs of 7" x 2.5" strips.
But wait, there's more…
Here are the second two braids
and the third set of two:
I had to stop work on the purple braid when I ran out of purple scraps and fabrics. I just needed eight more fabrics before I began repeating the fabrics! :-(
A very successful month indeed, as far as the Something Old, Something New challenge is concerned.
So, now: what will I do in October?
I'm not really feeling enthusiastic, but I need to make some forward progress on the Country Houses quilt, so I have chosen that for my Something Old project. First I have to pick out the six houses I carefully quilted into fabric – that may be as far as I get but we'll see! This, at least, is a lot more doable than setting myself the goal of finishing the whole quilt!
For my "Something New" project, I am going to make at least one of these 'snap' closing bags.
I'm thinking of making these as Christmas gifts for each for my classmates, teacher and the two shop owners, but I'll make one for myself first to see if I enjoy the process before I start out with a plan to make ten!
What about you?
How did you go in September?
What plans do you have for October?
Please link here with your specific blog URL so we can all visit and cheer you on.