As is my usual custom, I sew during the day and knit in the evenings when WM and I watch television. I also got plenty of knitting time on two train trips in late September/early October – one of nine hours to collect DD and the Grandboys for the conference; the other (of eight hours) after spending a few days with DD and the Grandboys at the house my sister had rented for two weeks for her annual vacation.
I seem to be making fairly good progress – but that's probably because I'm knitting relatively simple and smallish things in order to use up the yarn in my 'grab bags' as well as my two tubs of sock yarn!
Socks for Someone #5, started on 1 July, were finally finished (grafted and ends sewn in) on 9 September. They are made from Moda Vera
Noir
"Pink Mix" using my generic sock knitting pattern for women on 2.25 (US 1) double pointed needles. Unfortunately, I don't seem to have a photo of the finished socks.
Socks for Someone #6
were cast on 5 September and the knitting was finished 9 October. The grafting was done a few days later when I had time to do it during daylight hours. The yarn is Moda Vera
Noir
"Olive Mix"; pattern and needles as above. These socks were a bit on the small side so I will make the next pair slightly bigger.
Socks for Someone #7 were started on 10 October. I am knitting them in Moda Vera Noir, colour-way 'Laguna'. I have not knitted this colour before and was looking forward to seeing how it knits up. Overall, it's a lovely shade of green, more like the first photo than the second.
~~~~~~~~~~~
Now, on to my
Grab Bag Challenge
– in which I grab a pre-packaged bag of yarn, find a pattern that works with that weight and amount of yarn and knit! Each of the "grab bags" contains smallish amounts of yarns that were donated to me. My challenge is that I have to use all (or close to it) of the yarn contained in the first bag I grab. I'm not allowed to read the labels or swap for another bag unless I don't have the appropriate needles available!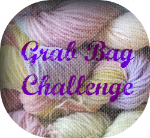 The first of the
Grab Bag Challenges
I have to show you is a shawl I have called "Taupe Buffalo". This is because it was knitted in Lincoln Yarn
Buffalo,
colour-way Taupe. The "Lincoln Yarn Company" is now defunct as far as I can tell from my internet searches. The balls of the yarn were labelled "1 oz" – the Australian wool industry has used the metric system since 1971 so that makes the yarn more than forty years old!
I managed to get
eleven
repeats of the pattern from the amount of yarn I had.
The original pattern,
Springtime Bandit
by Kate Gagnon Osborn (Ravelry link), had only four repeats of the pattern so mine is considerably larger, a great winter shawl for an average-sized woman. I didn't have enough yarn to finish the edging as in the original pattern. I should have done one less repeat of the body pattern but misread the instructions – then didn't feel inclined to rip out the last twelve rows! It looks okay and the unknown recipient won't know the difference – I'm sure the fact that it's keeping her warm will be far more important!
My next
Grab Bag Challenge
project was a scarf which I called "Courtelle Garden", because the yarn consisted of 63 grams of Patons Courtelle 5ply (sport) which is 100% acrylic but quite soft. It's a pretty colour that cried out to be knitted into a light and lacy scarf. Thepattern for the
Plymouth Vizions Garden Scarf
by Nancy Queen (Ravelry link) seemed right for the job given that
Vizions
(by Plymouth Yarn) is predominately man-made, being 68% rayon, 3% nylon and 29% linen. Below is a detail photo; the photo of the whole scarf didn't work!
This was followed by two more shawls, both knitted from a now-discontinued yarn bought long ago from K-Mart: a soft DK weight blend of 70% wool and 30% nylon, called "SportsKnit".
The first was made from two balls of neutral colours using the
Hippy Hippy Shawl
pattern (Ravelry link) by Gabrielle Vézina on 4mm (US 6) needles. I had intended to use all four balls of yarn but realised that I didn't need to; the shawl was quite big enough in just two balls. If I had known that at the beginning, I would have knitted this by changing colours after every two rows. As it is, I don't like it so I think I'll over-dye it. What do you think?
The second is made from cream and gorgeous blue yarns using the
Zebre Striped Shawl
pattern (Ravelry link) by Brenda Lavell. Unfortunately, I forgot to switch my needles to 5mm (US 8) before starting this shawl so the fabric does not drape as much as I would like. I finished knitting this shawl while I was holidaying at
Scott's Head
, with my sister, mother, niece, niece's partner, nephew, DD and the Grandboys. (I didn't take any photos because I didn't have a camera with me and my iPad didn't have enough storage space at the time)!
With both of these shawls, I just kept knitting till I ran out of yarn! Because they are 'donation' shawls, they will fit someone!
The next 'grab bag' I drew had 3 x 100g skeins of Panda
Soft Crinkles,
a now-discontinued 100% acrylic 12ply (bulky) yarn.
I decided to knit the
Weekend Hoodie
(Ravelry link), a free pattern from Lion Brand Yarn. It's the first time I've knitted a sweater in pieces in a very long time! Ah well, it'll give me a chance to practise mattress stitching the seams and three-needle bind off on the shoulders! One thing's for sure, it is not a
weekend
project unless one knits all weekend and does nothing else. I'm knitting mine child size and only completed the back during the weekend with evening and travel knitting! The front took me another three evenings! I'm obviously a slow knitter! The crinkly yarn doesn't do much for my tension either!
That's it for my bi-monthly report. The good thing about knitting is that I can take it anywhere with me (unlike my sewing machine). Since WM and I will be away for most of the next two weeks, it's very likely there'll be quite a bit of knitting happening; especially given that we will be travelling over 1600 kilometres (1000 miles) while our dearest friends, visiting my mum, then DD and Family.
Tomorrow, WM and I are off on the first leg of our vacation at three different locations around the state. We are travelling by train to Kempsey where we will be met by our dear friend and transported to their acreage near the town of
Bellbrook
, population 356!
I'm off to pack; I need clothes, toiletries, books, iPad, chargers and stitch-related items: knitting --
Socks for Someone #7
and
Crinkles Hoodie –
and my Dutch Cap Hexies (English Paper Piecing); seen in
this post
(scroll down).
See you in November!