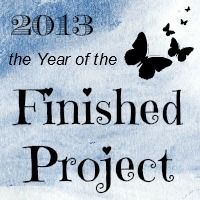 How did you go in January?
What plans do you have for your UFOs/WiPs in February?
Write your post which answers these two questions (you can be as expansive – or not – as you like). Then join up with the linky party below. Please remember to use the URL of your specific post, not just your blog URL. Thanks.
~~~~~~~~~~~~~~~~~~~~~~~~~~~~
January was a hectic month for me. Not only did I have house guests until 9 January, then overnight guests on 22 January, I put enormous pressure on myself to "get things done"!
You see, our quilting group has the "Airing of the Quilts" on the second weekend in April. I was asked towards the end of last year how many quilts I would be contributing and I said six. It seemed reasonable at the time! However, I started 2013 with only one finished quilt so I planned to finish two in each of January and February, and the fifth in March. Easy-peasy, right?
Well, putting pressure on myself means I tend to rush a little and don't notice things – or I ignore the things I do notice! The second quilt I intended to finish in January was quilted. The binding was cut and ironed and ready to go. But there I stopped!
I think the top of the quilt was not pulled tight enough when I basted and it looks "wrong" now that the quilting is done. Deep down, I wanted to pull out all those quilting stitches and start all over again. But no-one wants to do that in reality! So there I was, torn because the quilt was so close to being finished and wanting it to look better than it does! Will more quilting fix the problem? Perhaps!
Look at the bunching of the fabric around the brown square on the left and the green square in the centre right. Look at the wrinkles in the light brown fabric of the four patch between them!
It didn't help that the border fabric I chose, which looked so right to begin with, has changed the quilt from looking quite sophisticated (which I loved) to looking more frivolous!
Fortunately, my quilting class resumed on Monday (after our seven-week summer break). I asked for my teacher's opinion. Whatever she recommended I would have done. The good news is that she told me it was fine and to get it bound and done! So the binding was added during class.
I'm a bit concerned about the backing fabric now though -- look at my sewing machine:
Remember this backing fabric I showed you last week:
The founder of our community quilting group doesn't like us to wash quilts when we're finished them, she likes the pristine look for exhibition but I think I'm going to have to wash this with a packet of colour catchers! I know the quilts are taken down at the end of the exhibition and stored, then a few weeks later they are sorted and distributed to the local hospitals and other charities. I can't let this one go while it's leaking this much dye! Imagine the mess if it got wet!
So, my January list looks like this:
Westall Cardigan – I am currently knitting the bottom ribbing. I then have sleeves and the front band to go. I should have it finished by the end of February but would like it sooner!
sideways baby jumper – started November 2011 -- to be finished by end of the month -- frogged 6 January 2013
Deb's Diamond Blanket – I didn't work on this at all during January; all my knitting time was spent on the Westall cardigan, except when I had company and then I was working on plain self-striping socks!
Squares quilt – blocks made, the layout planned (done 10 Jan), and the blocks sewn into rows by the end of January (done 15 Jan); this is the quilt mentioned above. As you can see, I reached my progress goals by the fifteenth of the month; it was in pushing myself to get it done by the end of the month that things fell apart!
Dotty Bright quilt - finished 25 January (yahoo! a real finish!)
hexagon project bag – I didn't touch this during January
piano cross stitch – I didn't touch this in January
placemats for the Grandsons – this was to have been a new project but, because I am drowning in unfinished projects, I've given myself a two-for-one deal: finish two quilting projects and you can start another! Because that squares quilt is not finished, the placemats have to wait! As Shakespeare said, "to thine own self be true!"
So, do you think I will go easier on myself in February?
Here's my list – what do you think?
Older Grandson's birthday surprise – UFO
Westall cardigan – WIP – ribbing, sleeves and band
Black Stump Creek quilt – WIP
hexagon project bag – WIP
Scrappy Log Cabin quilt – UFO – border, backing, bating, quilting, binding
Rainbow improv quilt – WIP – layout, joining blocks into rows and rows into top; I think I'll be content if I get to completed flimsy!
Deb's Diamond Blanket – WIP – will not be finished this month, this is a long term project
placemats for the Grandsons – this will be my new project for February but first I have to get one more quilting project finished!
piano cross stitch – UFO -- if I do a little on this every month, I may get it finished sometime this decade!
So, what about you? Did you meet your goals for January?
Are you, like me, pushing yourself too hard?
And what are your goals for February (are they realistic?)