This past weekend was one of the busiest weekends I have had in a long time.
I've already told you that DD and I went to "high tea" on Sunday and visited the discount book store on the way home.
There's a post coming next Sunday about our newest project: a scrappy string quilt top; the why and wherefore will be given then.
So I guess that leaves Friday and Saturday.
On Friday it was 38*C (100*F) here. DD and I had great intentions of spending some time using the quilting frame but the garage, as I may have told you before, is not insulated so it was way too hot to be out there most of the day! We did spend some time out there in the cooler evening and some of what we accomplished is also shown in next Sunday's post. (I'm not trying to tease you; there is a reason for the delay and it will become apparent over the next day or two!)
We visited the Big Box Craft Store because I received an email to say they had 50% off selected quilting fabrics. When we got there it was off those in the $16.99 and $19.99 ranges only; and, since we had no notion of what we wanted, we bought nothing! Yes, you read that right; we drove across town to a fabric sale and bought zip! zilch! nada!!
On Saturday I took DD to a discount fashion store where she bought two tops and a new skirt. We then drove to the monthly meeting of the Blue Mountains group of the Knitters' Guild of NSW. We had two retailers there - one was selling cashmere blend yarns and one was selling alpaca fleece, yarns and items. Again we bought nothing! Aren't we good? (No wonder I didn't feel so bad buying
all those books
on Sunday).
DD was voted in as the new treasurer for our knitting group - congratulations to her and the new convenor and new secretary.
D. you've done a great job over the last three years and I'm sorry that you were not properly thanked!
On Saturday night WM, DD and I went to a local production of "Pygmalion". This is one of my favourite plays (and one of my favourite musicals in it's other incarnation: "My Fair Lady").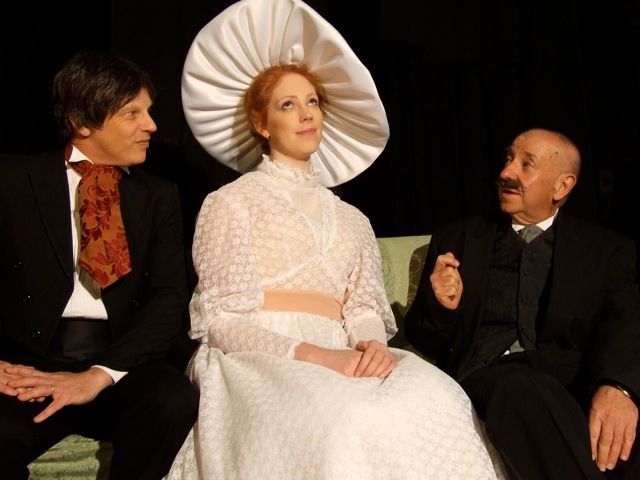 photo from stagewhispers.com.au
showing Bob Sparrow (Henry Higgins), Ali Gore (Eliza Doolittle)
and Alan Pope (Colonel Pickering)
The costumes were great, and the acting was pretty good. The one character that stood out for me was Mrs Higgins, plated by Robyn Pope - what a fabulous performance. Not a falter with her lines and she just played the part with what appeared to be consummate ease.
Well done to all the Glenbrook Players.