Hello. I'm still here. Just quiet on the blogging front.
Well, except for the hours I have spent reading through the 500+ posts I had in my
Feedly
list when I came home. I have only left comments on a few posts when I had something I really had to say but, for the most part, I have just skim-read and moved on. Some people have suggested that I just skip those missed posts and start afresh but I would hate to miss the post I needed to read! I would feel awful if I missed the news of a joyous or tragic event in my blog-friend's life! I am now down to 238 posts so I'm getting there! I also have dozens, if not hundreds, of emails that need answers – I will get to those in due course, I hope!
When we got home from our vacation, I had an email from a member of
Lost Cousins
, a family history site of which I am also a member. That sparked my curiosity about something in my own family history and there I was, off searching around my own ancestry. In those two weeks, I re-established connection with some "lost" cousins and have had some delightful and informative emails from my second cousin in England so have really been distracted from my crafting and other pursuits.
I've also found a site called
Deceased Online
, which doesn't sound terribly exciting but is a good site to find the location and date of the burial of English ancestors (for free) and further information, like who else is buried in the same grave (for a fee). I have been lucky enough to find a few of my ancestors or blood relatives on the site – they are adding more and more information every month.
I am focussing my attention on one set of my great-grandparents and their descendants. I am working from their eldest child, through their descendants (and so on) and am finding some very interesting (to me) facts. I just love the hunt and the thrill of finding small scraps of information! Some of which leads to other areas of inquiry.
I have sent emails to other members of
Genes Reunited
who have people with the same names on their tree that I am researching in my own tree and have had quite a few answers – most not relevant but it's still good to get a reply.
I have used another site called
Curious Fox
(a site for ancestors in Britain and Ireland but you need to know where they lived specifically) and had some answers with some new information which, as I've already said, is very exciting.
There has been some crafting. I have been working on some hand-stitching which I have now dubbed the "Dutch Cap" quilt because of the shape of the paper-piecing I have designed.
Since I started cutting out hexagons on the train trip home, I have achieved this much (22 "triads")!
My sewing machine was serviced while I was away but I have not yet taken it out of its case! I need to do so soon if I am going to have the binding sewn on the
Earth and Sky
quilt before the end of the month! I also need to do a small amount of sewing on another project so I can call it finished too!
There has been some knitting but I'll leave that for a separate post.
So, don't write me off – I'm still here, and
The Year of the Finished Project
linky party is still alive and well.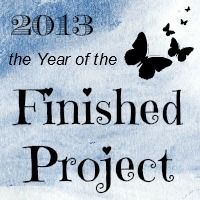 I'll be back soon with the promised knitting post!