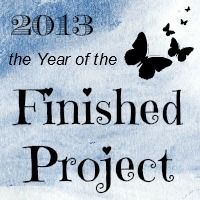 I'm also linking this post with Carrie's Nothing But UFOs in 2013 (although I will be working on things other than UFOs) and Thearica's April To-Do List.
~~~~~~~~~~~~~~~~~~~
March was less than successful for me in terms of reaching my stitching goals.
Perhaps it was all that extra time I spent over at DD's house helping get it ready for the rental market.
Perhaps it was all the extra time I spent with my grandsons who are the loves of my life (apart from WM and DD, of course).
Perhaps it was my sadness that sent me into the fictional world of romantic novels (by Christian authors -- the worldly stuff is just too erotic for me) for hour upon hour.
Nonetheless, I did have one finish -- albeit a very small one.
And I came close with another one -- three days before the end of the month I had only to cut the binding, attach it and sew it down. But it was Easter and I chose not to sew but to spend my long weekend with family -- a day for us (WM and I), two days working at DD's house, and a fun Easter Sunday filled with family.
So my April list looks almost identical to my March list.
Earth and Sky quilt – WIP – at this stage, an unfinished flimsy
Scrappy Log Cabin quilt – UFO – at this stage, an unfinished flimsy
Scrappy Strings II quilt – WIP – needs binding
at least one quilt for Blankets With Love – my new project for April
Westall cardigan – WIP – finish ribbing, knit sleeves
hexagon project bag – WIP – my "slow stitching" project
What about you?
How did you go with your March goals?
What plans do you have for April?
Link up here so we can all see your progress.