As you
may know, I have decided that 2013 will be the
Year of the Finished Project
.
I even had some fun creating a button and writing some html code for it (thanks to Jennifer at
Ellison Lane Quilts
for the great tutorials).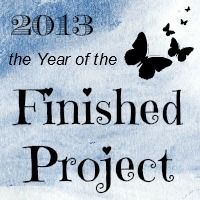 The butterflies are a reminder that some things can, and should, be transformed!
My plan is to finish two projects for every new project started.
I am going to set up a linky party on the first Thursday of the month for anyone who wants to join me.
The only rule is that you must finish at least one UFO or WIP before you start a new project! Don't worry, I'm not going to haunt your blog to see if you are following the rules.
The party is open to any form of stitching: knitting, crochet, quilting, sewing, dress-making, embroidery, applique, cross-stitch, etc.
Participation is simple:
On the first Thursday of the month, nominate a project (or projects) that you are going to concentrate on and see finished. Tell us a little about the project/s, where you're up to, why it stalled, etc.

In the same post, give us a progress report on the project/s you undertook in the previous month/s.

Include the button above on each post. The code is under the tab

"2013 – The Year of the Finished Project"

at the top of my blog.

Link back to this blog with the URL of your blog post, not your full blog. People want to read about progress, not spend time searching for the relevant post.

Read and comment on some other blogs that link to this party!

You don't have to get your project/s finished in one month, some bigger projects take longer, and sometimes life just interferes with our stitching!

You can finish one project in one craft and start another in a different craft if you wish. For example, you may finish a cross stitch and start a quilted table runner.
I've never hosted a linky party before so if you have any comments or questions, please feel free to suggest or ask. Please make sure you leave a contact email address so I can get back to you!